Digital Marketing Built for 2023
Campaign Creation + Management + Ad Billing = All-In-One Low Monthly Fee
Get Started Risk-Free With Our 30-Day Satisfaction Guarantee
Try Our Highly-Effective Social Media Marketing & Advertising Services
Your Digital Marketing Partner
Welcome to our agency! Simply browse and choose a few ad services, fill out some quick bits of info and from there, we will create the ads and start managing the ad campaigns for you the very same day you sign up. It's pretty dang niffty! All while you stay 100% stress-free.
We even handle the monthly ad billing so once we get your services connected, you literally don't have anything else to worry about!
Welcome To A Truly Modern Digital Marketing Agency

We are a full-service marketing agency located in the United States. We know small business owners need help getting online results at affordable prices so we decided to start our agency, Socialtize.io
Trusted By Over 20,000 Entrepreneurs & Small Business Owners
Slide
You + Socialtize = The Winning Combination
With our marketing courses and services, and your unique business, together we will be able to elevate your brand to the next level while you stay refreshingly calm and relaxed. Schedule a free 30-min call today and let's discuss how we can help your business break new records in the year 2022.
How It Works
Step 1.) Place Your Order - When you're ready, please order one or several of our digital marketing services and please make sure to fully complete your checkout. You can always add more services later as well as increase ad budgets as your results start to grow!

Step 2.) Approve Your Ads Or Request A Modification - We will use the information during checkout to build the ads, we will then send them to you for approval. If you need modifications, no problem it's all included in every service!
Approval requests will always be sent to the primary email on your Socialtize account. 

Step 3.) Relax & Leave The Rest To Us - Once the ads are approved you have no other action you need to take. The rest is up to us! Simply kick back and relax while we do 100% of the marketing for you.

We send weekly performance reports so you can stay informed without ever feeling stressed out 🙂 
Testimonials
Amazing agency, thank you for all the extra help they truly go above and beyond to help their clients.

Joanne P.
Seriously I would be so lost without socialtize. I love their customer support. they are always super helpful THANK YOU

Anne B.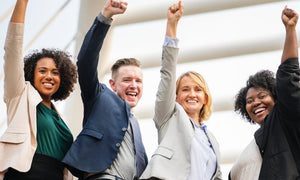 100% Client Satisfaction Guarantee